What does it mean to boost content?
When your content is "boosted" it is exposed at the top of our feed for all users to see.
Content is boosted at different rush hours every few days in order to hit different parts of our global traffic and bring more unique users.
Can I boost more than one piece of content?
Yes, you can boost more than one piece of content.
We suggest boosting more than 1 piece of content to maximize exposure, clicks, and the compound effect it has on the reader.
How do I find content I submitted?
If your content is not up on our feed yet, please check your inbox for any email updates about the status of your submission.
This could mean a few things:
Your article has not yet been reviewed. Generally, it takes up to 5 days for content to get published on Zest. Boosted content should have 0 queue, though, so please send us an email at support@zest.is to take care of it immediately.

Your article was rejected. If it was rejected, the email from us will give you the reason why. In this case, please try contributing another piece of content, or email use at support@zest.is.
How do I change the UTMs for my promotion?
Your Content Boost will automatically have UTMs attributed to it. These are:
| | | | |
| --- | --- | --- | --- |
| | Source | Medium | Campaign |
| Boosted | zest.is | cpc | content-boost |
| Organic | zest.is | referral | zest-organic |
You can customize these by selecting a piece of content and changing details in the "UTM Settings" section: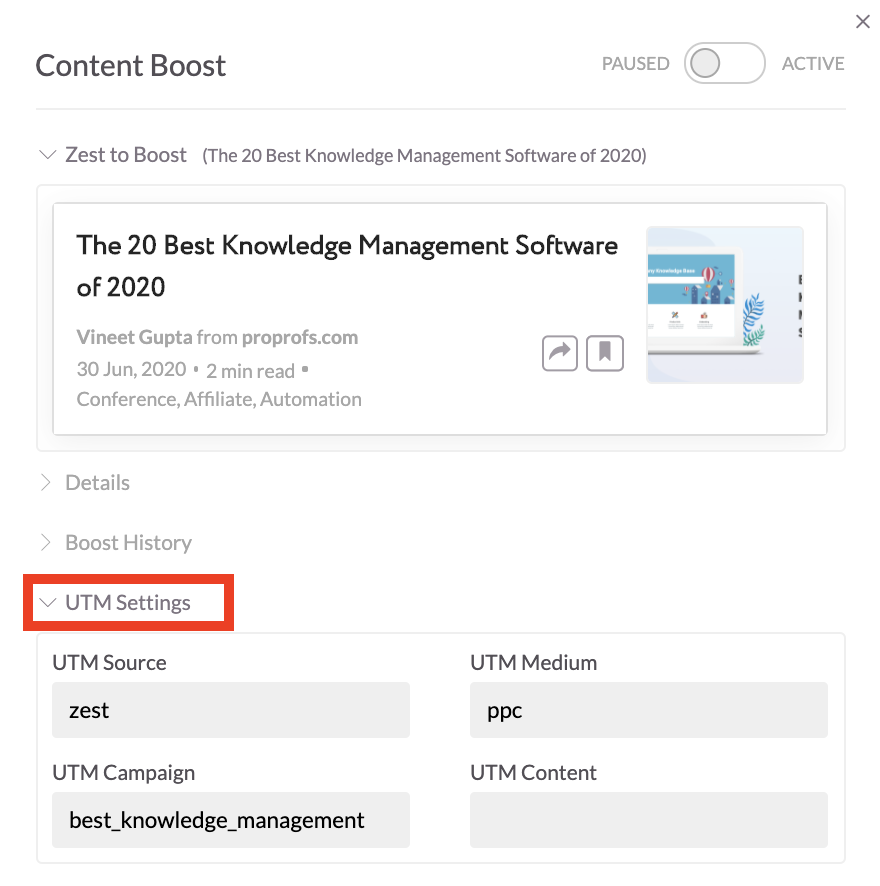 How long does Content Boost last?
The length of a Content Boost campaign may vary. This depends on how many clicks the content gets each time it is boosted. Usually it ranges from 3-10 days